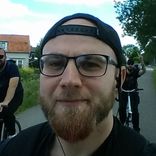 George Iliadis
Welcome to my website!
I 'm George and I am a developer. I studied Information and Communication Systems Engineering at the university of Aegean. I currently work as a ReacJs engineer with Typescript and Redux. In the past I have worked with PHP and things such as Code Ingiter and Drupal. But since I dove into modern JS libraries and Node I have not looked back. I am comfortable working with a wide array of technologies some of which are listed below, including some secondaries that I have either experimented with or currently learning.
I enjoy working with a team and I am confident in my ability to pick things up and become a contributing member in a short amount of time. I have provided a link to my CV for you to check out as well as my socials.
Please feel free to contact me in the Contact form down below, or you can find my email and phone on my CV.
Primary
Linux
ReactJS
Node
Strapi
Sass
HTML5
Git
Redux
Typescript
Docker
Secondary
React Native
Drupal
Code Igniter
Nginx
Apache
PHP
PostgreSQL
MySQL
MongoDB
Kubernetes
Ansible